Xi Jinping Attends the 13th BRICS Summit

  On September 9, 2021, the 13th BRICS Summit was held via video link. Chinese President Xi Jinping, South African President Cyril Ramaphosa, Brazilian President Jair Bolsonaro, and Russian President Vladimir Putin attended the summit, which was presided over by Indian Prime Minister Narendra Modi.

  Noting that this year marks the 15th anniversary of cooperation among the BRICS countries, Xi Jinping pointed out, "Over the past 15 years, we the five countries have insisted on being pragmatic and innovative and cooperating for win-win outcomes, synergized development policies, leveraged complementary advantages, pushed forward pragmatic cooperation across different fields solidly, and forged ahead on the road to common development."

  Xi Jinping indicated, when faced with new challenges, the BRICS countries must step forward to make an active contribution to world peace and development and advance the building of a community with a shared future for mankind. Xi called on BRICS countries to promote the practice of true multilateralism; to promote global solidarity against COVID-19, uphold a sciencebased approach to tracing its origins, and oppose politicization and stigmatization; to enhance coordination in COVID prevention and control, and boost the research, production and equitable distribution of vaccines as a global public good; to promote openness and innovation-driven growth; to promote common development, follow a people-centered philosophy of development, and fully implement the 2030 Agenda for Sustainable Development.

  The BRICS leaders fully affirm the achievements of BRICS cooperation over the past 15 years. They are willing to continuously make common endeavors to deepen the BRICS strategic partnership and work for more pragmatic outcomes in BRICS cooperation.

Li Keqiang Attends the 7th Greater Mekong Subregion Summit

  On September 9, 2021, Premier Li Keqiang attended the 7th Greater Mekong Subregion (GMS) Summit and delivered a speech at the Great Hall of the People in Beijing. The Summit was held via video link, chaired by Cambodian Prime Minister Samdech Techo Hun Sen, and attended by leaders from Laos, Myanmar, Vietnam, Thailand, and Asian Development Bank.

  Li Keqiang said that since its establishment, the Greater Mekong Subregion Economic Cooperation mechanism has benefited the economic and social development of the countries involved and improved their people's livelihood, contributing to the region's stability and prosperity.

  Li Keqiang pointed out that as new challenges present themselves, countries in the subregion should build consensus, enhance political mutual trust, broaden cooperation areas, improve cooperation levels, and jointly promote the sustainable and inclusive development of the subregion. Li put forward a six-pronged proposal, covering deepening cooperation on water resources, making joint efforts in pandemic control and vaccine cooperation with a scientific spirit and by adhering to scientific rules, strengthening trade and investment, promoting connectivity to achieve coordinated development, promoting sustainable development, and consolidating political trust and safeguarding common interests of GMS countries.

  Participating leaders appreciated Premier Li's suggestions, thanked China for its help in fighting against the pandemic, and expressed that GMS nations should uphold multilateralism, turn challenges into opportunities, and promote strong economic and social recovery of countries in the region.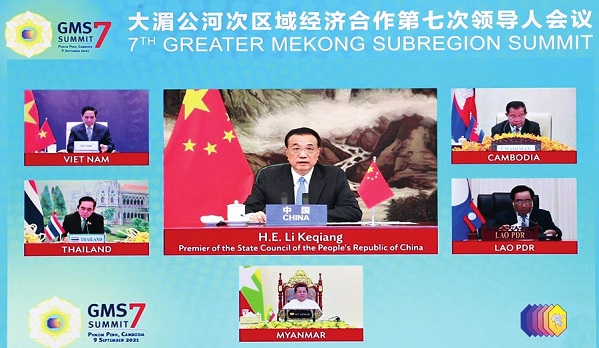 Wang Yi Attends Foreign Ministers'Meeting on the Afghan Issue

  On September 8, 2021, Chinese State Councilor and Foreign Minister Wang Yi attended the First Foreign Ministers' Meeting on the Afghan Issue Among the Neighboring Countries of Afghanistan in Beijing via video link.

  Wang Yi said, the United States and its allies withdrew from Afghanistan hastily, indicating that the power politics, military intervention, and so-called "democratic transformation" promoted by the Western countries led by the United States ended in failure. However, Afghanistan is still facing severe challenges.

  Wang Yi noted, "We, as the neighboring countries should guide and urge the Afghan Taliban to unite with all ethnic groups and factions, build a broad and inclusive political structure, pursue moderate and prudent domestic and foreign policies, draw a clear line with terrorist forces, and establish and develop friendly relations with other countries, especially neighboring countries."

  Wang Yi said that at the current stage, neighboring countries can focus on coordination and cooperation from the following six aspects: First, help Afghanistan strengthen pandemic prevention and control. Second, keep port gates open. Third, strengthen the management and control of refugees and migrants. Fourth, offer humanitarian assistance as soon as possible. Fifth, deepen cooperation on the counter-terrorism and security fronts. Sixth, carry out cooperation in drug control.

  The participants stressed that the international community should respect Afghanistan's independence, sovereignty, and territorial integrity, assist it in realizing security and stability and rebuilding its economy, and provide urgent humanitarian assistance.